Following on from the success of our the inaugural outing of the FIELD farm at the Museum of English Rural Life Lates back in March, the FIELD dairy farm was re-opened to the public for two days in early May. Rather than Reading, this time the 'farm' was set up inside the Grainger Market in Newcastle – one of the few remaining Victorian indoor markets in the UK still used for its original purpose.
Issued with a tight budget, our participants took on the role of the FIELD farmer to navigate through several decisions associated with the management and control of BVD on the farm whilst trying not to go bankrupt. They then could leave their thoughts on several questions we had posed on the newest recruit to the FIELD team, Martha the cow.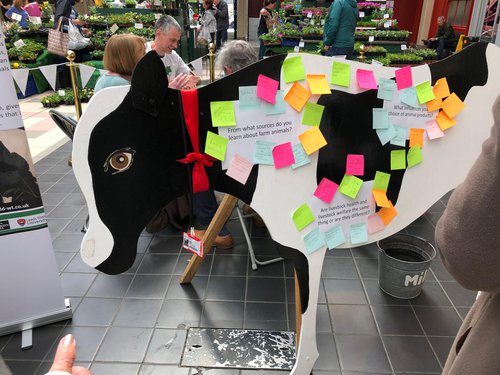 Unlike our evening at the MERL, this second round of the FIELD dairy farm also contained the opportunity for participants to take part in a more in-depth discussion surrounding the choices they made during the task, their information sources around farming, and more broadly their thoughts surrounding animal welfare, health and disease. We were pleasantly surprised by how many of our visitors were happy to spend extra time out of their day to talk to us, and by how openly and able they were to articulate their thoughts in relation to these often controversial topics.
Visitors to the 'farm' found the activity interesting and challenging in places, with just over a half managing to navigate through the choices to a herd of BVD free cows without going bankrupt. Comments on the exercise demonstrated a recognition of how difficult it is to be a farmer in today's society, and an appreciation for the hard work and tough choices that they confront on a daily basis.
What struck the FIELD team was how frequently memories of foot and mouth disease were brought into discussions, despite it being almost two decades since the 2001 outbreak, and given that we emphasised the focus of the task was on endemic and not epidemic diseases. As local communities were severely affected by the disease it is not unsurprising local visitors still had vivid memories of the outbreak, and think back to this when confronted with animal disease.
With a couple of hundred visitors over the two days, and over 50 interviews to keep us busy, it is safe to say the second FIELD farm event was success and has provide us with a wealth of data.
Stay tuned for more FIELD events this summer.